About Ashley Gerrity Photography
Ashley Gerrity Photography is a top-rated photography & videography studio located in Malvern, PA. The studio serves families & couples who seek creative, personalized service before, during, and after their life's milestones. Whether taking breathtaking images of all of the intimate moments of their wedding day or capturing the true essence of your family's personality, with decades of combined photography & cinematography experience, our team of photographers & videographers are able to anticipate and capture all of the heart and soul of your life's milestones.
Wedding Photography
Wedding Videography
Engagement Photography
Portrait Photography
Maternity & In-Home Newborn Sessions
On-Location Family Portraits
Philadelphia Wedding
Baltimore
Malvern
Photographer
Portrait
Photography
Studio
"I absolutely love pictures and so it was important for me to find a photographer whose prior work spoke to me and who I felt would take the time to work with me to make sure we got photos of everything we wanted. Ashley did not disappoint. You can tell that she absolutely loves what she does and truly cares for each and every one of her clients. We had numerous calls and meetings to come up with a timeline for the day and create photo groupings to make sure there was no scrambling day of and we got all of the photos we wanted on our wedding day. She was also very knowledgeable about all of the amazing places to take pictures in Philly and permit requirements. The pictures she took on our day really speak for themselves, they're absolutely incredible and everything I envisioned and wanted. . . They truly kept me sane. I would 10 out of 10 recommend them and would hire them without hesitation."
Liz & Mark
"If you hire only one vendor for your wedding – let it be Ashley! Ashley and her team went ABOVE AND BEYOND for our wedding day. Originally, the weather for our wedding was a brisk 50 degrees. Very quickly, the Philadelphia forecast turned snowy and windy, with a high of 25 degrees smack dab during our photo-taking time. Did Ashley and her team ever miss a beat? Nope! We had a fabulous morning with my bridal party and family, hopped on the trolley, took STUNNING photos during the wind and snow, and then had an amazing (heated haha) reception! My family, friends, and guests commented on how amazing Ashley and her team were during the entire day. I would 100% recommend her to anyone who is in need of a wedding photographer; she will make your dreams come true!"
Kiersten & Jonathan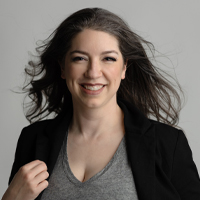 Ashley Gerrity
CEO/Founder
Ashley Gerrity Photography
Email
Company
: 717.496.7043
Cell
: 717.496.7043
Ashley is an intensely driven, detail-oriented fan of excellent food and exhilarating romance. She also happens to be a passionate editorial wedding photographer. Her approach to photography is simple – take the time to get to know each couple personally to create breathtaking images. She brings together a diverse background in visual and performing arts to craft your story in fine art imagery that you will pass on for generations to come.
A romantic at her core, Ashley loves creating intimate and beautiful portraits in an editorial style, while documenting every last detail of the day. She has been published locally & nationally in both online & print media, including Dream Weddings, Munaluchi Bride, Wedding Planner Magazine, The Knot, Huffington Post, and The Philadelphia Inquirer.
Beyond her abilities with a camera, Ashley is masterful at finding like-minded creatives. With the team at Ashley Gerrity Photography, she has pulled together a formidable team of the area's most talented photographers & cinematographers. Looking beyond their talent with a camera, the AGP team is compassionate, personable, and dedicated to crafting personalized experiences for our clients.
When she isn't helping you enjoy every last moment of your wedding day or chasing your toddlers around with a camera, she is snuggling with her adorable son & two amazing dogs, exploring the world with her family in tow, or whipping up something extravagant for dinner or dessert.